Ode to a Mango Duet
Mango Duet is
both orange and white, with stick
bought from man on bike!
As of last week, I have left
Nick
in the traveling companionship of one Mr. Louis-Philippe, our very capable neighbor from the
North
. Ever since we met Louis over a month ago in Sikkim, our lives have been one long experimental haircut. As I left them to their exploration of greater
Rajasthan
,
Amritsar
, and the infamous
rat temple
, I dubbed them the Mango Duet, a delicious mango-flavored dreamsicle concoction sold by Kwality Walls all throughout India. Cool, refreshing, and always on the verge of melting, they are two great tastes that go together.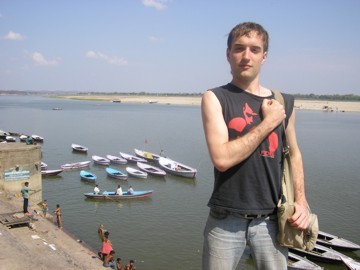 This is Louis-Philippe: Quebecois, Greek, New Wave
The first of many haircuts performed in guest houses.
Confidential to
Nick
: Do you have any hair left?
Team Minnesota would like to wish you both the safest of travels throughout Punjab: may you always have an upper-berth and may all your samosas stay above the floor.